66%  OF  SECURITY   COMPROMISES ARE THE  RESULT  OF  EMPLOYEE   ERROR!
Social Engineering involves the psychological manipulation of people to disclose critical information about themselves or their companies. This manipulation often involves confidence tricks, or "cons" to deceive the mark. The field of social engineering comprises.
OCD Tech offers Social Engineering services to clients. Our approach consists of impersonating would-be hackers, sending deceptive emails to your staff, attempting to get them to click links and download attachments.
OCD Tech specializes in making sure employees understand the mechanisms of spam, phishing, spear phishing, malware and social engineering. You get high quality web-based interactive training combined with common traps, live demonstration videos, short comprehension tests and scenario- based Danger Zone exercises. When it comes to rolling out training for your users, our platform's Automated Training Campaigns do the heavy lifting for you.
OCD Tech's highly effective scheduled Phishing Security Tests keep your employees on their toes with security top of mind. Within the Admin Console you are able to schedule regular Phishing Security Tests from our large library of known-to-work templates, or choose a template from the community templates section where you can also share  phishing  templates  with  your peers.
Social Engineering Service Tiers
All of the services listed in the table are available for a full year, on an ongoing basis. The number, frequency, and type of tests cam be customized based on client need. We provide three distinct service tiers, which vary based on the level of testing and training required.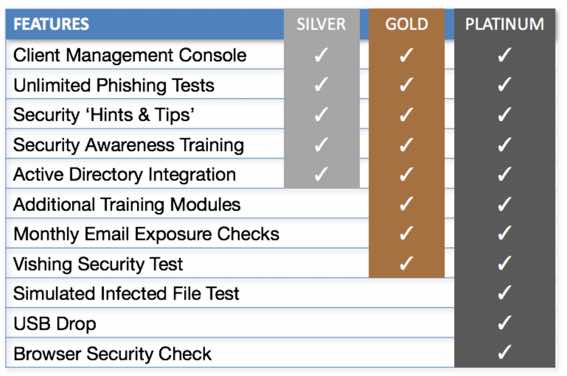 HOW DOES OCD TECH'S SOCIAL ENGINEERING PLATFORM WORK?
How do you price this service?
Our pricing is roughly based on the number of seats and the tier of service desired, though we also factor in the time and effort required to complete the engagement.
Is all the training online or do you perform any in person?
We offer both online and in-person training. Contact us for a custom quote that's tailored to your needs.
What is "vishing"?
Vishing is the act of using a telephone to attempt to scam or cheat an individual into giving up private information.
What else can you tell me about your online training options?
Our online platform does a lot of the heavy lifting for you.
On-demand, browser-based training featuring "The World's Most Famous Hacker"
Multiple awareness training modules available
Create multiple training campaigns as ongoing or with a specified completion date
Automated enrollment  and  follow-up  emails  to  'nudge'  users  who have not completed their training
Auto-enroll new users added to a group or company
Point-of-failure training auto-enrollment
Dedicated Hosting Options, or run the course in your own LMS
What else can you tell me about the phishing tools that you offer?
Our hosted platform offers a number of approaches and templates that can be used in simulated phishing attacks. Some of the features of our platform include:
Unlimited year-round simulated phishing attacks
Full library of successful phishing templates
Easily create your own templates
Customizable landing pages
Customizable "hover-links" when a user mouses over
Tests for opening MS Office attachments and secondary action of enabling macros
Set-it-and-forget-it scheduling of attacks and campaign length
"Anti-prarie dog" campaigns that send random templates at random times preventing users warning each other
Phish Alert Outlook add-in button gives your users a way to report simulated and non-simulated phishing attacks
Vishing Security Tests using IVR attacks over the phone