ASIS New England Security EXPO 2017
When: Thursday, April 20th
Where: Boxboro Regency Hotel, Boxborough, MA
It's never too late for a comeback – an in-depth look at cybercrime.
What did we learn from cybercrime in 2016?  We're losing the battle against it.  During the last year, Yahoo confirmed one of the largest data breaches in history; foreign governments attempted to influence an American presidential election; Internet of Things (IoT) devices were the cause of a colossal distributed denial-of-service (DDoS) attack; the average recovery cost stemming from ransomware more than doubled; and total losses in the first three months of the year from this malware were around $209 million – on track for $1 billion in all of 2016.  Just when we thought this disastrous year had ended, a Vermont electric company found traces of malware on its computers – the same malware found on DNC machines, for which the Russian government has been blamed.  During this session, we will discuss the evolving world of cybercrime, the threats facing our organizations, and actions we can take right away to protect our friends, family, and businesses.
Jackson Schultz, CISA is a senior auditor and security consultant with OCD Tech, the IT Audit & Security division of a regional Braintree-based accounting firm.  Jackson has worked as an IT auditor, security consultant, outsourced CISO and interim CTO. Jackson's expertise surrounds regulated industries such as financial services and healthcare. He has earned his Certified Information Systems Auditor (CISA) designation through ISACA and is a candidate for the Executive Master in Cybersecurity degree from Brown University, from which he will graduate in April, 2018.
W. Jackson Schultz
Senior IT Audit & Security Consultant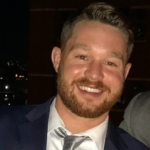 Jackson holds several certifications, including:
Certified Information Systems Auditor (CISA), ISACA
Cloud Security Alliance (CSA)
Young Professionals Council, ASIS
InfraGard – Boston
Information Systems Security Association, ISSA
Motorola Foundation Science and Technology Scholarship for Academic Excellence Recipient